Special Events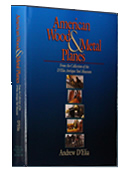 Announcing...
American Wood & Metal Planes
from the Collection of the D'Elia Antique Tool Museum

This 352 page hard cover book has been produced to promote the D'Elia Antique Tool Museum and provide a keepsake for those who visit. It includes illustrations with captions of some 400 planes, including many unique examples, selected to provide a broad sampling of the 1,400 planes in the museum's collections.
To order, please send your name and address, along with a check for $30.00 ($25.00 + $5.00 shipping and handling) to:
The D'Elia Foundation
P.O. Box 164, Scotland, CT 06264
---
Scheduling
To schedule an event or to inquire about museum events, email info@deliatoolmuseum.com or call 860-456-1516 or 860-423-2016.